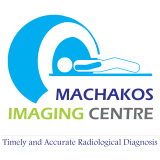 Machakos Imaging Centre (MIC) and the University of Nairobi Department of Diagnostic Imaging and Radiation Medicine (UON-DIRM)  have formed a training collaboration programme through which the University's radiology residents train at our state-of-the-art medical imaging center in Machakos.
Through this programme, the radiology residents rotate at Machakos Imaging Centre during their 4th year of residency and assist in overseeing patients under the supervision of the resident radiologist.
We wish to thank the UoN-DIRM in entrusting our facility to train their radiology residents. This will equip the students with necessary knowledge, skill and experience of practising radiology in rural set up.